Two years ago, the American Consumer Satisfaction Index didn't mince words when reporting on healthcare.
On providers: "Patient satisfaction with hospitals continues its free fall—plunging [to]…the lowest level of patient satisfaction in nearly two decades."
On insurance: "Americans are less satisfied with their health insurance…and the discontent is permeating nearly the entire industry."
Scores for payers and providers are almost identical in the 2022 report. Out of the 47 benchmarked industries, health insurance companies ranked 36th and hospitals ranked 44th. During the pandemic, many industries and retailers have taken a consumer sentiment hit as they struggle with a strained labor force and supply chain issues. But many still track well above payers and providers. Amazon, for instance, despite dropping five points from pre-pandemic levels, still sits close to 10 points above the aggregate hospital rating.
So what's behind the low consumer satisfaction? And most importantly, what can payers and providers do to improve?
What's behind consumer dissatisfaction
The payer score is based off 12 factors that cover areas like mobile apps, plan coverage and communication protocols. Many of the lowest ranking aspects of health insurance came down to transparency (ease of understanding statements) and user experience (call center satisfaction).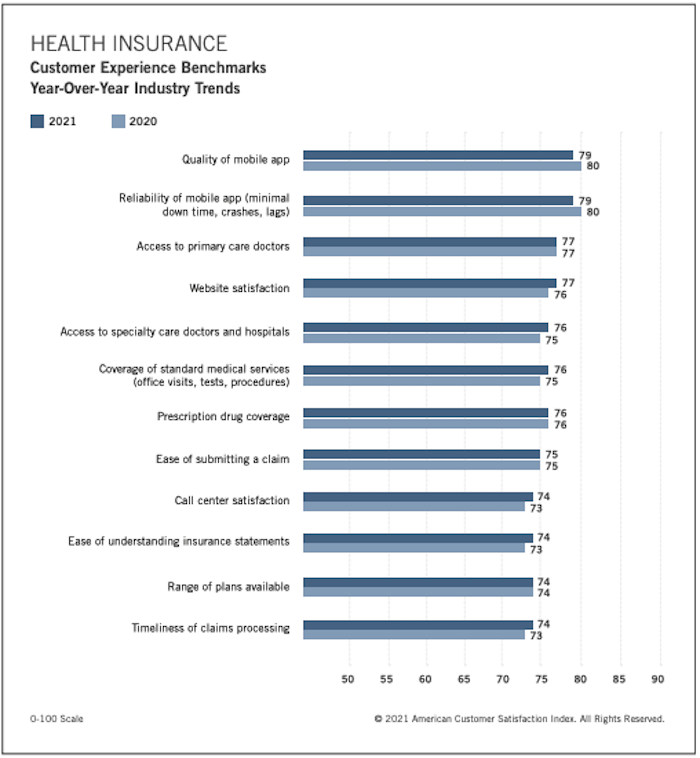 For hospitals, the 2022 report was less detailed than previous iterations. Provider scores came down to inpatient care, outpatient care and emergency room care (70, 74 and 66, respectively). But based on patient satisfaction ratings from the last few years, we know that a lack of transparency and poor user experience—especially around billing—deserve a large share of the blame.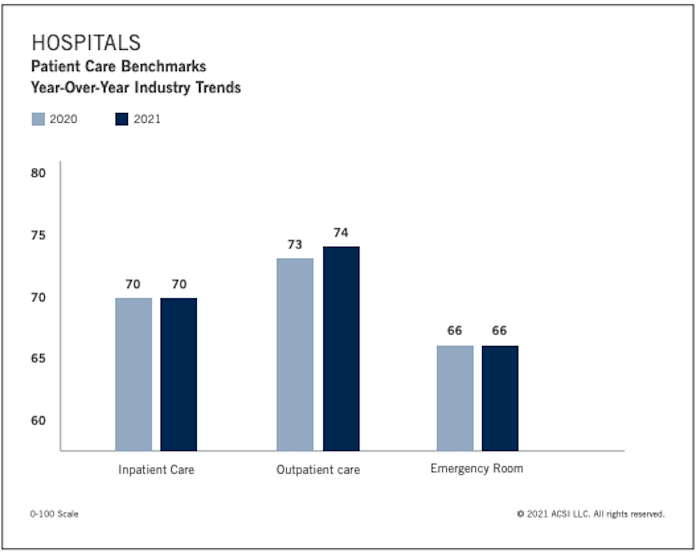 Historically, providers and payers haven't seen eye to eye, and they operate with different incentives. But those differences contribute to poor consumer experiences. Which begs the question, wouldn't consumer satisfaction increase if the two sides collaborated? And how might that work?
What provider-payer collaboration could look like
Patients have spoken. They want less ambiguity around costs and more automation around paperwork. They're even ready, willing and able to pay bills at the time of service if they understand their obligations.
To this point, providers and payers haven't really offered the same level of consumer-centric experiences as the top B2C digital heavyweights (Amazon, Apple, et al.), and it's eroded trust. However, both parties have opportunities to transform the patient experience.
Providers can facilitate financial coordination, care preparation and administrative intake while giving clear visibility into expected costs for all planned services–including out-of-network care–with easy access to resources that can jumpstart eligible financial assistance options like Medicaid.
Then payers can sync up insurance information and clearly show deductibles and out-of-pocket status. By immediately verifying and approving bills, payers can increase patient confidence and help them understand bills so they can ultimately pay them more quickly and efficiently.
Many providers understand how closing the gap with payers is a potential catalyst for a new model of care. Some have already launched their own health insurance plans. Health systems like Johns Hopkins, Crystal Run and Healthfirst are noteworthy examples of the "payvider" model that McKinsey called "a powerful strategy set to benefit… healthcare providers, patients and ultimately the nation."
Management consultancy giant Guidehouse recently outlined many of the advantages of payer-provider collaboration in their whitepaper Now is the Time for Payvider Adoption & Growth. As the report laid out: "The rules of the game for delivering high-quality, cost-effective, consumer-centric care are changing, and payers and providers that don't adapt their business models will be left behind."
In short, by working together, payers and providers can bring unprecedented clarity and empathy to consumers, benefitting all parties. We like to say, it pays to care. To this, we'd add: It also pays to collaborate.