This blog post was originally published on The Patient Experience Studio on Medium, where Cedar's Product Design and Data Science teams share a behind-the-scenes look into how we're building a better financial experience.
As a Cedar product analyst, my job is to use data to identify how our solution can improve the patient experience. When we were testing our newly launched Cedar Pre product, we noticed a surprising trend: Almost half of our alpha patients did not continue their check-in journey after confirming their appointment.
The drop-off occurs at a critical juncture in our product, where a prompt asks users to verify their identity to complete the rest of the pre-visit check-in process. Patients unable to continue past verification can't take advantage of all of the Cedar Pre benefits, where they can enter contact information, add insurance coverage, and take care of upcoming bills to save time at the front desk before their visit.
We were determined to figure out why this drop-off was happening at the verification step.
Social security number vs. date of birth
Previously, identity verification required two additional forms of authentication: social security number (SSN) and date of birth (DOB). However, research has shown that asking for a SSN can make patients feel less secure. In 2019, Medicare even discontinued SSN due to the increased risk of identity theft.
To see if we could make the verification step easier, we designed an A/B test to try and reduce friction for patients. The control group was required to verify with SSN and DOB, while the test group could verify with only DOB. By removing the SSN requirement, we were hoping to improve patient trust, reduce friction and ultimately increase the number of people who completed the digital check-in.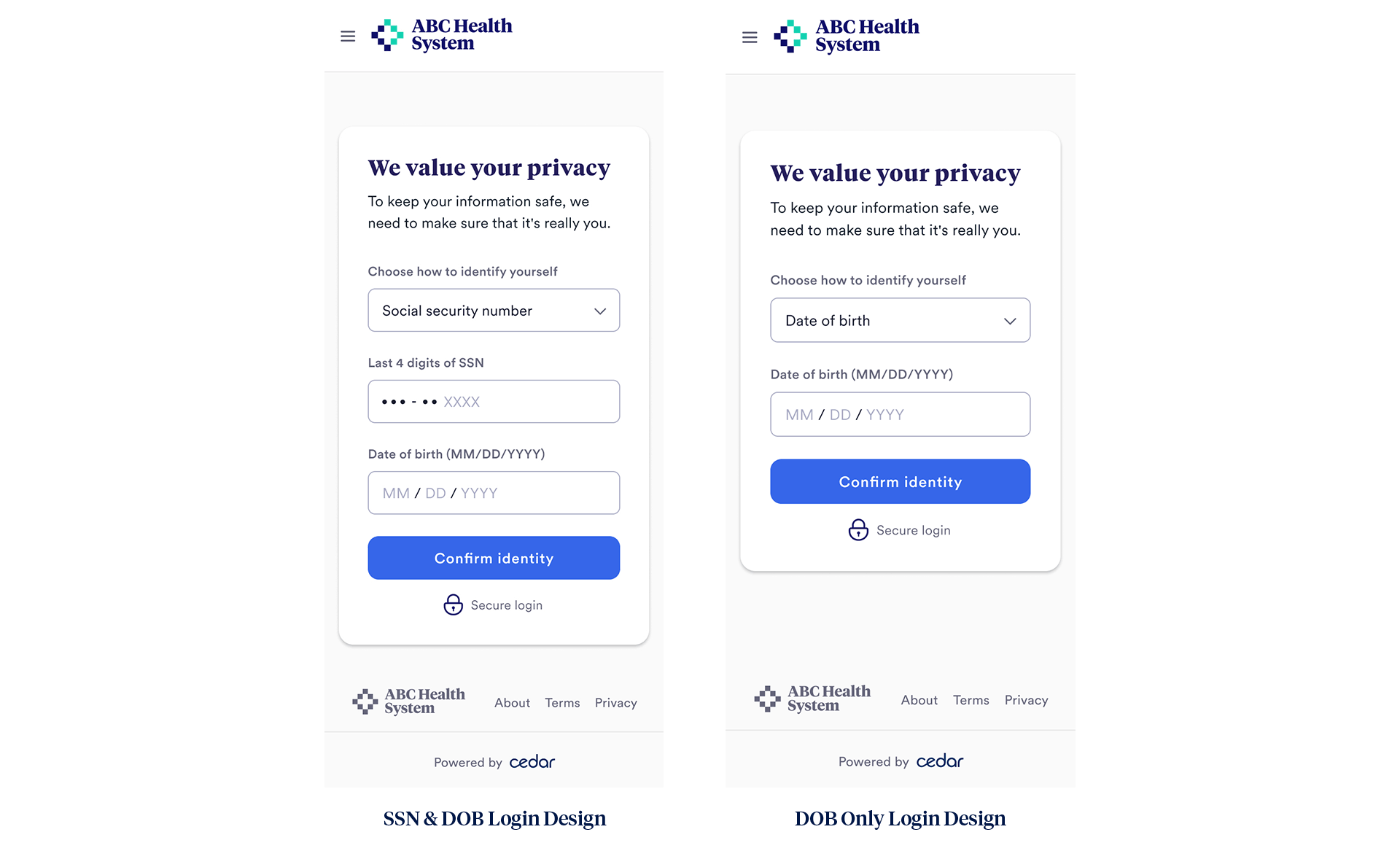 To ensure that this change didn't compromise security, we partnered with internal and client security and compliance officers throughout the process. Since we have a personalized check-in link and do not make users log in from a general page, the officers found that removing SSN from the verification page didn't introduce security risks for patients. Our multi-step patient verification process ensures we are keeping protected health information (PHI) data safe and secure.
Optimizing Cedar Pre
In a random 50/50 split of a sample patient population, we found an 8.5% lift in verification success rate for the group that only had to fill in their date of birth. We also discovered that these patients completed digital check-in 2.3% more frequently. Both of these splits were significant at the 99% confidence level.
Based on these results, we decided with our alpha client to enable DOB-only verification for all Cedar Pre patients. This move would ensure we deliver the easiest digital check-in process possible. As we continue to build and develop the product, it is imperative that the maximum number of patients can securely take advantage of Cedar Pre's time-saving concierge-style features.
In partnership with Cedar's product team, our data science team continues to monitor and analyze ways we can make Cedar Pre easier to use. Next up: optimizing easy text message responses. Stay tuned for those results later this year.
And if you're interested in joining Cedar to work on these types of projects, check out our open jobs here.

Caleb Engelbourg is a data science lead on the product analytics team. He is currently focusing on studying and optimizing our new Cedar Pre solution.